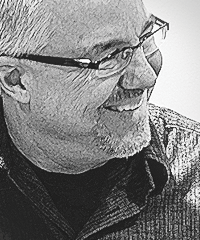 Well it all started when I was about 13 years old. I was doing what every other 13 year old boy I knew was doing - playing baseball and football, learning to play the guitar, sneaking over to the fancy neighborhood that had a lake to catch some fish and re-designing ad campaigns. Yes, you heard me right - my best friend's dad at the time was the owner of a successful design studio and I was intrigued with what he did, and I began noticing good and not so good design and advertising (from other design shops, of course). I distinctly remember looking at magazine ads or TV commercials and thinking how they could have been better if only... Fast forward about 5 years and I have a job at my best friend's dad's design studio - I had found my passion for what I wanted to do for the rest of my life and I haven't looked back since.
That first job in the creative field was the springboard that provided me with the foundation to launch and run my own successful business for over 20 years (Giles Creative Group), and serve as Creative Director for 2 different multi-million dollar companies. During my time in the creative field, I have continually honed and crafted my skills to keep me at the top of my game in all areas of design, creative and advertising.
You might be sensing where I'm going with this - I'm a seasoned, award-winning Designer/ Creative Director with stellar talent and an unmatched work ethic, ready to help you take your business to the next level.
Please take the time to browse a sampling of my work and let me know what you think. It's what I love to do and I enjoy the opportunity to share it with you. Back when I was 13 years old, I would have never imagined that I would be where I am now. It's been a great ride up to this point, and I look forward to what is next.